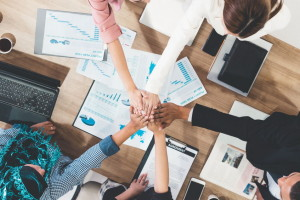 New year, new me…we've heard the adage a million times, but somehow the fire always fizzles out around January 14th. The same could be said for old financial strategies, promises and goals, sitting crumpled in the back of our desks and completely out of mind. Plus, analysis paralysis convinces us that we've finally attained a high-income status – intimidating us away from the possibilities that high net worth offers.
Sound familiar?
That's because it is! We're living through one of the most unprecedented financial landscapes in history right now, and are actively trying to preserve our family's success and financial stability.
In times of uncertainty, though, we've found that it's best to go back to the basics.
Read on to learn more about the non-negotiable tasks that we recommend doing every year to preserve your financial stability and become recession-resistant.
How should I budget for the new year?
There are near-endless schools of thought around the new year or new start money management. Below, we're covering some of the most evergreen "good practices" to do at least annually, if not quarterly, in 2023.
1. Draw out your goals
When we say map out your goals, we mean truly define them – to the letter. Getting as specific with your goals as possible increases their likelihood of sticking, and is a vital part of your overall financial strategy. As you do this, remember that a strong goal is:
Clearly defined
On a set deadline
Attainable
If you aren't sure where to start, connect with the team at Money Insights today. We'll get you on the right track to transition from high income to high net worth.
2. Build your savings (in a dynamic account)
Stashing your savings in an account isn't a great way to preserve your wealth. It leads to what we call "lazy money." Instead, consider investing in a yield account, ideally something like an HYSA that would be able to accrue higher rates of interest for your profitability and growth.
3. Review your budget
This one is especially "basic." However, with so much on autopilot, it's easy to let expenses slip through the cracks. Reviewing your budget to check up on your inflow, outflow, and total liquidity can help determine your next right step.
Connect with the team at Money Insights and make the transition today
Wealth building happens as a result of moving from high income to high net worth. At Money Insights, we make this process simple – giving you the tools you need to power your own financial transformation. For more information and to get started today, please visit our website. We look forward to serving you!