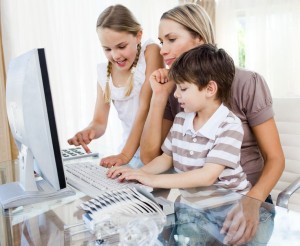 We've all made a few money mistakes throughout our years. Some of them, of course, were probably more costly than others. And while learning by trial and error can be valuable, when it comes to setting your children up for financial success, you don't want to leave it to a guessing game.
Don't let your children learn the hard way and make costly mistakes. After all, the financial world is even more difficult now than in previous generations. Technology and media have evolved. We're bombarded by more information and things like inflation and costs for basics like school and homes are greater than ever before.
That's why we're talking about how to set your children up for financial success and to take over your empire. Here are just a few tips to get started:
1. Start conversations about money early.
Children can understand the concept of more and less at a very young age. Some parents think they should wait to teach their children about money, but you can introduce them to basic concepts as early as they start counting. You can also encourage young children to read prices and make decisions about small purchases early on. That way, they have context for what things cost and the value of money.
2. Teach about credit.
Technology has made things more complicated. It's easy to spend with a credit card without it seeming like "real money." Kids now are on ipads and apps at a young age, so spending digitally can feel like it doesn't have the same consequences. Before you know it, your 18-year-old will be receiving preapproved credit card applications in the mail (and by email). Teach your children about the difference between credit, investment and spendable income from an early age, too.
3. Go beyond the basics.
Don't assume your child's school will teach them financial principles. Sure, more schools are teaching financial literacy now, but it's unlikely they'll be teaching high-level definitions of things like debt and investing. Don't let that be the only exposure they have. What's taught in school won't get them to financial success or where you see their future. Even worse, what's taught in school may not align with your principles.
4. Broaden their scope.
Media is more powerful today than it's ever been. That means your children are probably already seeing information about investing. Ads for apps like Robinhood are common in Youtube videos and podcasts that your children are watching. Don't let them get sucked into the Wall Street machine or hooked on "get rich quick" investing ploys. Instead, encourage them to engage in diverse investing and financial learning on their own. When you broaden their scope of learning, they'll be able to make better decisions.
These foundations are just the beginning of raising kids that are smart about money, finances and investing. Take a proactive step in educating your children about each concept so you set them up for a foundation of success, philanthropy and smart financial decisions. If you want to take a deeper dive into how to educate your children or many other essential investing and wealth-building tips, check out our podcast. Episode 28 talks money-smart kids! Find that episode and more here.